Vacation Rental in Preston Idaho
Description:
The beautiful and spacious Cub River Lodge has 5-bedrooms and 4-bathrooms. This comfortable Lodge has 6,700 square feet of living space and can sleep a min. of 63 people. It has a large kitchen/prep area with 3 separate stoves/ovens, a stainless steel island, 2 full size refrigerators and all the necessary cooking & eating utensils.
The main focal point of this Lodge is the large "Conference Center" with hardwood floors, (looks like a dance floor, with ability to seat over 150), complete with surround sound and audio/visual capabilities.  The adjoining theatre room has a big-screen TV, Clavinova piano, foosball table, with plenty of comfortable chairs and couches. The front entry of the Lodge sports another very large sitting area where guests can gather to converse and relax from the laughter & chatter in other rooms.  A small dining room attached to the kitchen will accommodate up to 30 guests, with overflow into the conference center.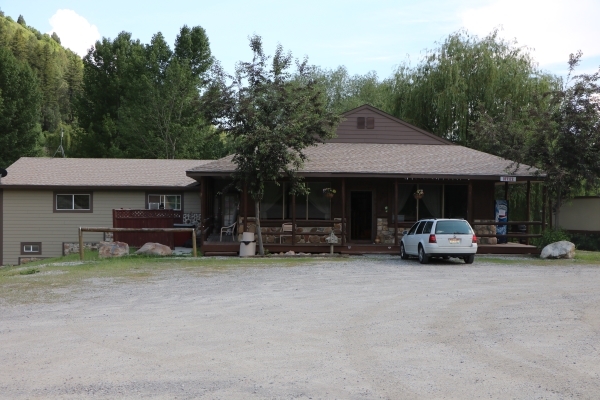 Cub River Lodge Front View
Vacation Rental in Preston Idaho
Open year-round, one can come relax, renting a room or the whole lodge. Cub River Lodge is perfect for groups of all sizes and ages, be it family reunions, youth retreats, scrapbookers, quilters, dancers or business seminars, you name it! Many have also enjoyed our facilities for indoor/outdoor weddings and as a great sweetheart get-away!
Indoor events might include a family talent show, family auction, movie, or board game night.  Outdoor activities include volleyball, tetherball, (a must for Napoleon Dynamite Country!), and a horseshoe pit. And one must not forget to mention that for the adventurous type, hunkering for some off-road escapades, there are miles of groomed ATV, biking, hiking, horse, snowshoe & snowmobile trails within 1/4 mile of Cub River Lodge & RV Park in one of the most amazing "outdoor playgrounds", the Cache National Forest. Guests can bring their "toys" along with them, riding right from the RV Park! Wintertime sports could include snowmobiling, snowshoeing, in the National Forest, or snow skiing at nearby resorts such as Cherry Peak or Beaver Mountain.
Cub River RV Park, behind the Lodge, offers (11) full hook-up RV Sites (30 or 50 amp), and lots of dry camping area for RVs, "hip camping", tenting, etc., should your group need more space or night-time privacy or sleep!!
The Deer Cliff Inn restaurant next door serves a wide range of hot, yummy evening meals during the summer months. Onsite catering for groups can also be arranged, or one can find a large array of good eating places, retail shops and supermarkets that can be found within 12-25 miles in Preston, ID or Logan, UT.
Book early as our summer months fill up fast!  Groups from all over the globe have come and enjoyed our great facilities....making memories to last a lifetime!
Amenities:
Seminar / Conference / Meeting Rooms and Facilities
Private Parties, Meetings, and Get Together Facilities for 150+ people
Wedding and Reception Center (Indoor or Outdoor)
Catered meals for groups (Schedule in Advance)
High Speed Wireless Internet
Surround Sound Theatre Room
Satellite TV
Laundry Facilities
Campground / RV Park
Tent Spaces
Outdoor Activities
Horse, ATV, and Snowmobile Rentals Available Nearby
House Rules:
No smoking
No pets allowed
Events, parties and large gatherings considered with prior homeowner approval
Suites available for smaller groups, contact for details
Must be at least 25 years old to book
Additional fees and taxes may apply
Photo ID and signature on liability forms will be required upon check-in
Have questions about the Lodge? Call today! (208) 852-2124
Cub River Lodge & RV Park Reservations
Call now for more information or to make a reservation.